Pet Diagnostics and Blood Work
Premier Pet Clinic wants Tahlequah pet owners to understand the importance of finding a veterinarian in the city that is capable of conducting pet diagnostics and doing pet bloodwork. Otherwise, you will have to send your pet to strangers for many of its routine care and diagnostic needs.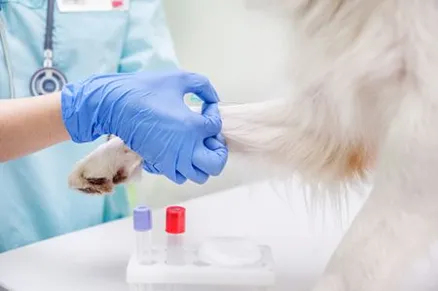 Working with a Clinic that Offers On-Site Pet Diagnostics
When you are concerned for your pet's health and safety, you want to work with a vet clinic you already know and trust, where your pet feels comfortable, loved, and safe.
Our calm, compassionate team of professionals will help you by explaining all of the diagnostic procedures we run on your pet so that you feel comfortable and informed about the process. Dr. Musgrove may need to refer you to a specialist for some treatments, however, we conduct many diagnostic tests in-house. Our goal is to ensure the best possible care and treatment for your pet through accurate and effective diagnostic testing.
Conducting On-Site Pet Bloodwork
Bloodwork is a common process in preventative and diagnostic care for your pet. Your pet's blood, urine, and stool reveal so much about its health and well-being. We examine these samples for certain markers so that we can prescribe accurate treatment methods to address your pet's health problems and healthcare needs.
We understand that every pet is unique with individual healthcare needs. By examining the blood of your pet, we can understand so much about various health problems your pet may experience.
Choosing a veterinarian is no easy choice; it is important for pet owners to seek out veterinarians that can offer the best care possible, including pet diagnostics and bloodwork in the city where you live.
Premier Pet Clinic is happy to be your full-service veterinary care service provider for preventative care, annual wellness exams, bloodwork, diagnostics, and more. Make us your first choice in Tahlequah to ensure your pet is getting the best possible routine care.